Our Story
How We Met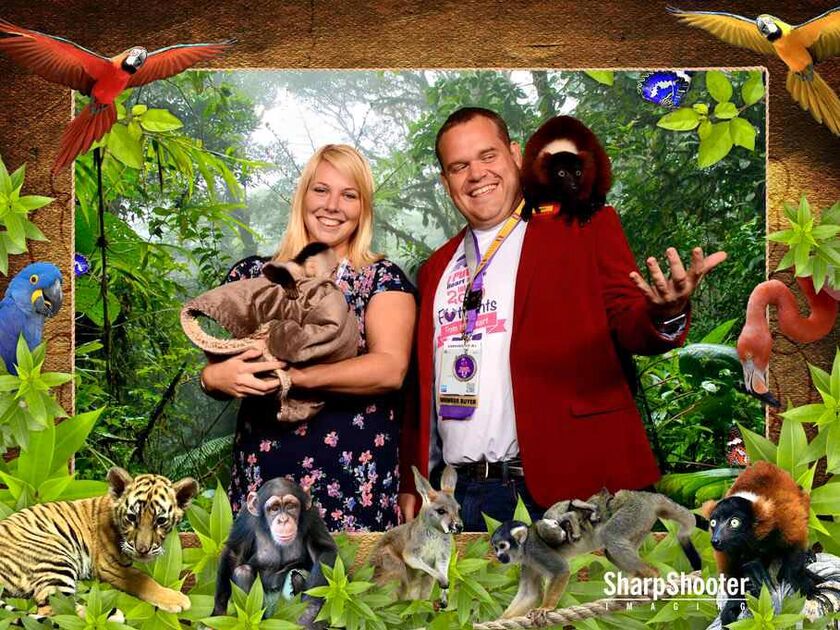 We originally met in 2012, Kylie was working at Universal Studios and Ben was looking at adding them as a client. In true American fashion they made Kylie go and say hi to the British guys because she "spoke like them". Fast forward 4 years and Kylie was working at LEGOLAND Florida, one of Ben's clients; and Ben was making the permanent move to Florida.
After a little swipey, swipey action (cough cough, Kylie swiped left), Kylie said there was absolutely no way she was going on a date with her bosses room mate and awkwardly avoided Ben for the next few days in the office.
But that was the problem, Ben had temporarily set up a space in the shared office and although it was through an open doorway it was in direct view to keep making awkward eye contact and flirty looks.
Ben, found out that Kylie was having some man troubles and had an addiction to English Chocolate so oh so smoothly left Kylie a massive bar of Cadbury's on the desk and offered to be a listening ear....
Soon after that, Kylie discovered Ben was going to Ikea and used it as an excuse to get his phone number...you read that right...Kylie made the first move!
Not long after that Ben earned the nickname #BadStory from the girls in the office due to his gentlemanly ways.... and Kylie and Ben avoided as many dates as possible whilst spending the next month talking and texting far too much for people that "weren't interested in anything long term".
Then IAAPA happened and after spending a day together, flirting and being touchy-feely whilst everyone else with them told them to hurry up and go on a date, Ben finally invited himself on a date with Kylie to see Colbie Callait at Universal a few days later.....

The First Date
By the time our first date actually happened I think we were both just wanting to get through it so everyone could stop pestering us for it! haha
Ben pretended he wanted to go and see Colbie Callait even though he only knew one song - Bubbly - but he was a gentleman and drove from Orlando to Winter Haven just to pick me up. He didn't give us much chance to have a romantic first kiss, he just went in for the kill within seconds of walking in the door!
Within 10 mins of the car journey back to Orlando, I knew he was the one. There was something about the way we immediately connected, having a no holds barred conversation about our biggest failures in life, our hardest regrets and most importantly our happiest moments. I told Ben all about Lyla and he told me all about his nieces.
It was obvious to us both that there was something there which I think surprised us after avoiding the first date for so long. We arrived to Universal and had our first dinner at the Leaky Cauldron (table 69 of all tables for Ben to make a thing out of!) the conversation didn't stop and then we realized we were going to be late for the concert. We were able to get about 5 people back from the stage and enjoyed the whole concert in each other's arms, it felt like the 50th date not the 1st.
Then we got in the valet line to get the car and Ben attempted to go home with another girl but that's a total different story.... (really)
The next night we had our second date, the next night our third date and we realized quite quickly that we were going to be inseparable. We had to get used to the line "when you know, you know" but it was true, and we knew!

Proposing to Kylie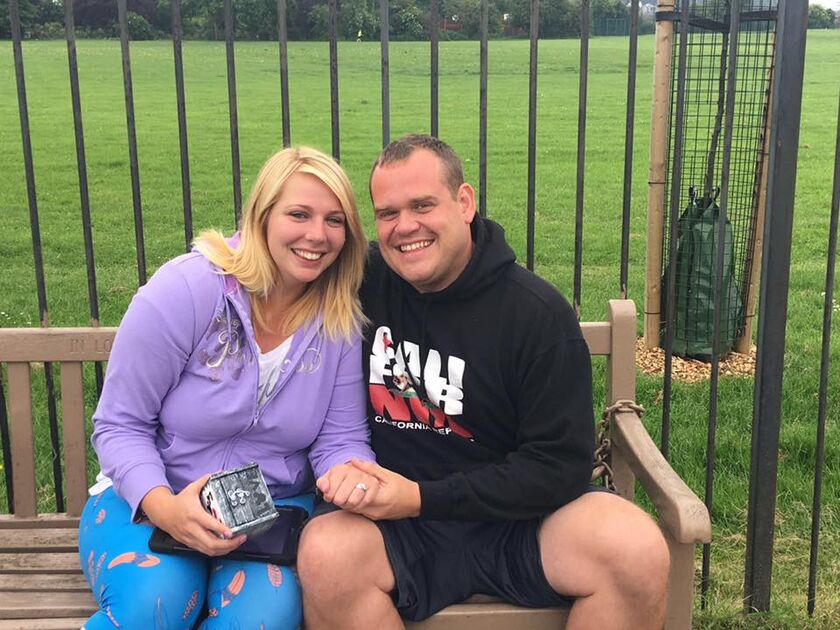 It was June 4th and the first time Kylie was going to visit Peter's (her dad's) grave. Being quite a traditionalist, I'd already asked Kylie's mum for permission of marriage, but I wanted her dad to be involved too.
We'd been visiting friends and had the Saturday afternoon to visit the Cemetery. I'd asked the advice of a couple of mates, and it was deemed a risky proposal idea.
We arrived at the Cemetery and found the gravesite. As you can imagine, emotions were running high and we spent around 20 minutes cleaning up the grave and chatting. Kylie was ready to leave so this was my moment.
I'd prepared a short video with photos and clips of our relationship. Kylie was a little confused, selfishly thinking it was a video about her and her dad. The end of the video teed me up for my moment. On one knee I asked Peter for permission and then in turn Kylie.
I'm still not 100% sure she said yes, but she took the ring off me! We took a moment to gather ourselves, then asked a random passers-by to take a photo. We explained we had tears of joy, not distress.
It certainly was a high risk operation, but resulted in the best outcome i could've ever imagined!
The Wedding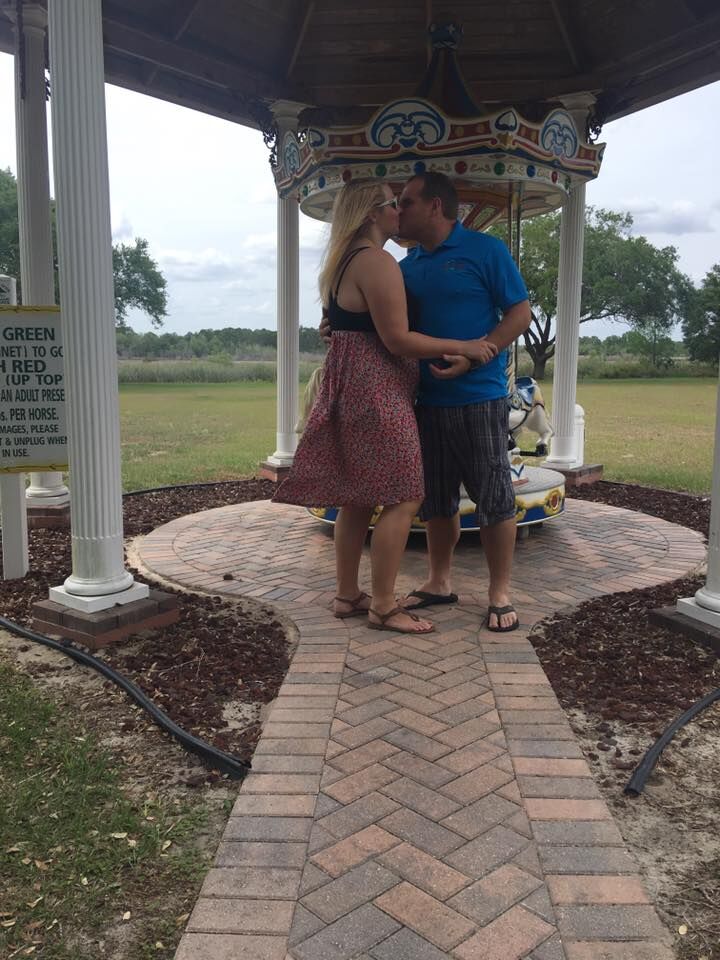 Monday, April 16, 2018
2:00 PM
Attire: Florida Formal/Casual - you're going to be outside all day on grass so we suggest no heels! We'll be wedding formal for the ceremony and then who knows what Ben has planned!
Ceremony and Reception
The Ever After Estate
9512 Oak Island Ln, Clermont, FL 34711, USA
In true Kylie and Ben fashion, this is not a normal wedding, we've done away with awkward seating plans and lengthy sit down dinners; we want this day to be a day of fun with lots of food and beer thrown in!
The ceremony will be as formal as possible ( formal wear at least for Kylie...), although our alter is a carousel!
This will be a casual day of celebration, with the opportunity to play minigolf, rounders, watch movies, play arcade games, dance (on a converted basketball court!) and lots more...
We will be doing casual theme park food, think hot dogs, burgers and mac and cheese! If you are vegetarian please let us know so we can make sure enough veggie options are available!
The wedding will officially end around 11pm with a lantern send off (weather permitting), but then you'll probably find Kylie asleep somewhere and Ben still drinking with the lads...let's be honest!
1:30pm: Guests Arrival
2:00 - 2:30pm: Ceremony
2:30 - 4pm: Appetizers
4pm: Reception fun begins
5:00 - 7:30pm: Dinner available
7:30pm: Desserts and Speeches
8:00pm: First Dance
10pm: Late Night Snack delivery
11pm: Lantern Sendoff

Other Events
Drinking Round the World Bachelor/ette Party!
Friday, April 13, 2018
2:00 PM
Epcot
200 Epcot Center Dr, Orlando, FL 32821, USA
A crazy afternoon of drinking, bonding and more drinking! There are 11 countries at EPCOT plus it will be the flower and garden festival, so there will be plenty of opportunities to drink, try foods from around the world, take ridiculous photos the more drinks that are had, and enjoy some of Ben's weird drinking games (notes: don't say mine).
We're looking at getting t-shirts made for the group so that everyone can easily find each other etc if anyone wants to help in that design!